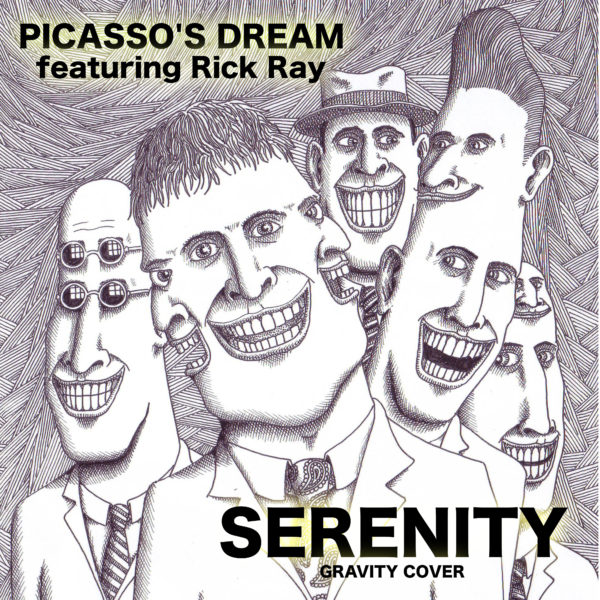 Anthony S. Anselmo - Keyboards
Vincent Simon - Drums
Max Bigalow - Bass
Rick Ray - Guitars
Tony Kertis - Saxophone
Produced and Mixed by Paris Hollins @ Blue Moon Studios - Columbus Ohio.
Written by J. Capka, E. Potapenko, M. Kerschner and B. Craft
Artwork by Rick Ray
Serenity – Single
PRESS RELEASE - COLUMBUS OHIO - Picasso's Dream Central Ohio's premier Progressive Rock band releases new single featuring the Cleveland legend Rick Ray. Serenity - Is a cover of a song that was originally done by the Progressive Rock Band Gravity off their Midnight Sonata Album. Although Gravity has moved on (with key members moving to Lux Terminus) Picasso's Dream pays tribute to this inspiring band from the Rock and Roll Capital.
Progressive Rock at its Finest!
The song features guest Guitarist Rick Ray from the
Rick Ray Orbital Transmitter
. Rick Ray has been a Cleveland staple for over 54 years. He's has played to numerous Cleveland crowds and opening for popular groups such as
Blue Oyster Cult, Fates Warning
, and 
Kansas
. "It is an absolute thrill to have Rick star with us on this effort! I could think of no better talent for a Cleveland cover than one of the great legends of Cleveland shredding on this track." says
Anthony Anselmo
Producer and Keyboardist of Picasso's Dream. Along for the ride are regulars Vincent Simon on Drums, Max Bigalow on Bass and Tony Kertis on Saxophone. The song recorded at
Blue Moon Studios
in Columbus Ohio, with the Grammy Award winning
Paris Hollins
mixing and mastering. "Gravity is one of the influential bands that became a starting point for my musical career. I would drive up to Cleveland several times a year to see these talented individuals play. They were a major inspiration for me to start my own band. Now it's great to come full circle and pay tribute to them." continued Anselmo. With all the chaos going on the world right now the band hopes the song will bring some peace and 'serenity' to fans everywhere. As a result the band is offering the track FREE to download off their BandCamp page. "In the current times we are living in, I hope this song works to bring people together and help those going through turbulent times. It truly is an honor to cover this great masterpiece." says Anselmo. The single can be downloaded for FREE at the
BandCamp
page. More information about Picasso's Dream can be found at
www.PicassosDream.com.