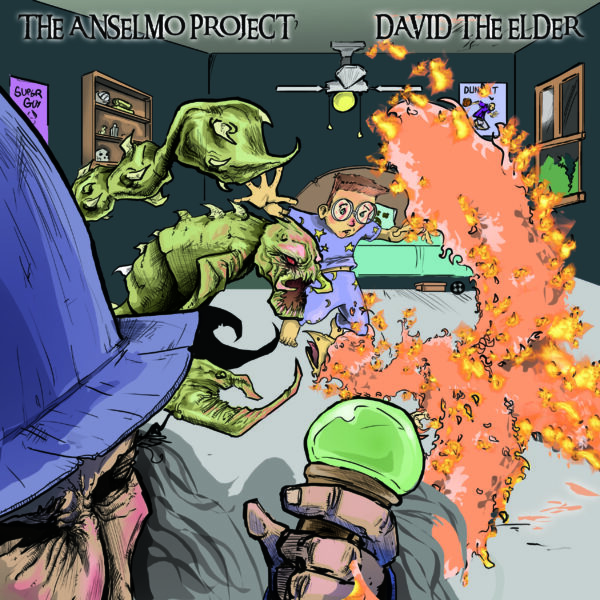 All music and lyrics written by Anthony S. Anselmo except
"Corruptible Power" lyrics by David Merriman and Anthony S. Anselmo.
Alone mixed by Paris Hollins @ Blue Moon Studio - Columbus, Ohio
The Long Journey and Corruptable Power mixed by Steve Parkis - Columbus, Ohio
All other songs mixed by Tony Thompson - New Zealand.
This record would have not been able to be made without the gracious help and efforts of multiple individuals from around the world. When I started this effort I knew this was going to be a long, but I truly appreciate everyone who helped to make this a reality. 
First off thanks to Daniel for allowing me to shape this wonderous story of his into a musical opera. It really would of never happened without his vision.
Second: Deb, Cam, Louis, David, Steve J., Jared, Brian, and Ethan, without your wonderous talents of which this would not of been possible. Thank you all so much for taking time to help create the tapestry of this magical world.
Thanks to Bill, Alex F., Francesco, Alex L, Pat, Dave, Paul, Zahn, Keith, Josh, Derek, Harold and especially Matt for playing on these songs. Without your amazing skills this would of never happened either.
Thanks to Tony, Paris and Steve for helping to get the sound where I wanted it. 
As usual thanks to all my friends and family, for their encouragement. 
Thanks to all various bandmates throughout the years for their support, encouragement and assistance where needed. 
Amazing artwork by Jason Bascom.
Copyright 2020 - Anthony S. Anselmo/Daniel Noland
www.AnthonyAnselmo.com
TheAnselmoProject.Bandcamp.com
There is no fairlight on this record...

David the Elder
Falling
A Child's Dream
The Visitor
The Creature
Corruptible Power
Alone
Battle of the Minds
A Whisper
The Long Journey
Dark Agony
Out of the Box
Final Judgement
The Progressive Rock Story
The Progressive Rock concept album is based upon a story from Anthony's long-time partner Daniel Noland. Featuring numerous talented individuals from around the world, the album
paints a story of a lone man, trapped in a mysterious world and the strange events that occur around him. Taking over five years to construct and complete the album it is an epic ProgRock masterpiece.
Mastered by a team of talented Award Winning Producers and clocking in just eighty minutes. The album is huge behemoth to delight any progressive rock listeners ears, for instance.
"Daniel had this amazing story he had written that he hopes to turn in a series of books one-day. In the meantime, I quickly realized this could become an amazing concept album" says Anselmo. "It has been a long ride but I'm very proud of everyone's efforts to help bring this vision to its full completion." Starring on the album is Louis A. Marchena as
David the Elder,
Cam Stark as T
he Boy
, Dee Jazzaz as
The Lady of Light
, and David Merriman as
The Internal Voice
.
The album also features guest appearances from Matthew Kerschner (
Gravity
,
Lux Terminus
), Haraold Kay (
Anselmo/VanderMaas
), Stephen Jones (
Blue August
), Brian Randolph (
Picasso's Dream
), Max Bigalow (
Picasso's Dream
), Alex Lazcano (
Lazleitt
), Alex Furst (
Fade To Oblivion
), Zahn Krava (
Downright Nasties
), Paul Budzynski (
Downright Nasties
) and many more special guest stars.
Artwork for the album is done by the talented
Jason Bascom
.
David the Elder
will be
available via the bandcamp page and soon on all music platforms. More information can be found at
AnthonyAnselmo.com
. #AsSeenInColumbus #PicassosDream #Progrock #ClassicRock #IndieRock #Columbus #Ohio #CentralOhio #ModernRock #ProgressiveRock #Synthwave #ConceptAlbums